In March, tropical cyclone Veronica pummelled the Pilbara coast, raining down more than 300mm of rain – more than a year's worth – in one day. The downpour of rain flooded the roads, making it impossible to bring supplies in and out of affected areas due to the unsuitable driving conditions.
A convoy of trucks were stuck in the Pilbara, awaiting the all-clear from main roads to be able to deliver vital supplies to the affected communities. The convoy had been stuck in the Pilbara all week, since cyclone Veronica had left the Great Northern Highway damaged and flooded.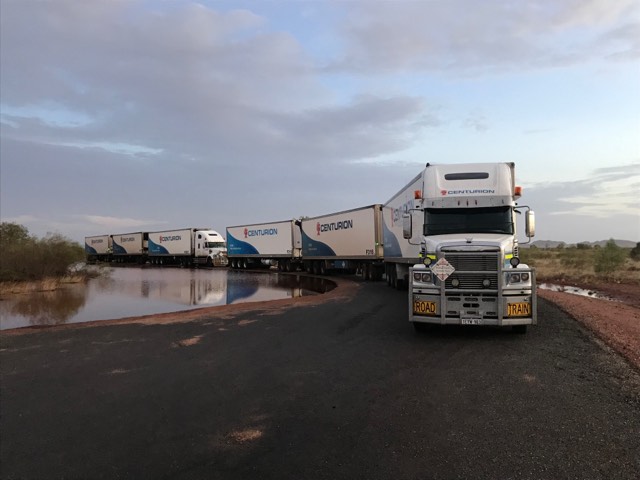 According to the Bureau of Meteorology, the area from Karratha to Port Hedland suffered heavy rain and gale force winds of more than 125 km/h.
Finally on Tuesday 26th of March, the roads were deemed safe enough for trucks and the permits arrived allowing 15 Centurion trucks to be escorted by Main Roads through the still water-logged areas to refill empty shop shelves.
It was a fantastic effort from the Branch network to ensure their teams, branches and clients remained safe. Continuous communication with Main Roads and our affected clients was key to ensuring the trucks could travel through to their destinations safely.
A great video was put together by the ABC showing the convoy of trucks arriving in Roebuck before half headed to Broome and the rest through to Kununurra and Fitzroy. Centurion driver Gary Adams shared his advice for driving in extreme weather conditions. You can watch the full video below: