Our focus is on being the leader in our industry, ensuring our expertise is developed by sharing knowledge and offering ongoing training to develop skills across the company.
Our partnerships with Registered Training Organisations (RTO) are crucial to providing Centurion employees with nationally recognised qualifications and industry relevant knowledge and skills.
Centurion has a variety of tangible training and development opportunities that provide meaningful pathways into our business and the supply chain and logistics industry. 
Frank Cardaci Traineeship Program
Established in 2012, the Frank Cardaci Traineeship Program's purpose is to provide disadvantaged or marginalised young people, Indigenous or non-Indigenous, with life-changing traineeship opportunities.
Areas we facilitate traineeships in are Off Site Receipting (OSR), Warehouse, Dock, Yard and Accounts.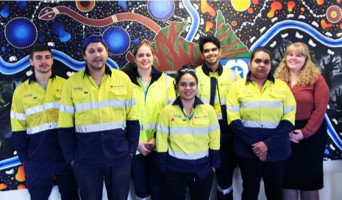 Traineeships are delivered entirely on the job to provide trainees with an immersive and experiential learning experience. Where possible, Centurion rotates trainees across different areas throughout their traineeship to provide as much exposure to our operations as possible. Trainees are also empowered and supported with tailored mentoring that includes goal setting and planning. This is a person-centred focus that instils an ecosystem of support around the trainee to ensure they not only succeed in their traineeship with us but also maintain traction to continue succeeding in their lives.
Apprenticeships
In the everchanging landscape of skills shortages and development, apprenticeships remain incredibly vital for ensuring industries attract and develop talent within their workforces. Centurion typically provides apprenticeships in Heavy Commercial Vehicle Mechanical Technology in our Fleet Service Workshop.