Centurion's headquarters are based in Perth, WA.
The Perth Airport Logistics Hub is the heart of Centurion's distribution network operations in the West, situated near to major line haul routes and within close proximity of other Centurion facilities as well as major vendors for our clients.
Our Perth service offering includes local express pickup and delivery, general freight transport, refrigerated goods consolidation and loading, cross docking, off-site receipting and inspection, warehousing and storage, and hot shot transport services.
Traffic Management System
Centurion will be trialling a new traffic management system at our Perth distribution hub at Yagine Close from Monday 12 June. The new system will help ease congestion and speed up the process of unloading. A simple colour coding will help drivers know where they need to go: Packages, Palletised, Bulky, Oil&Gas
As part of the new system Centurion is also introducing dedicated unloading bays on the outer edge of the undercover area to minimise interaction between forklifts and delivery vehicles. There will also be a driver safety zone.
Click on the map below to enlarge.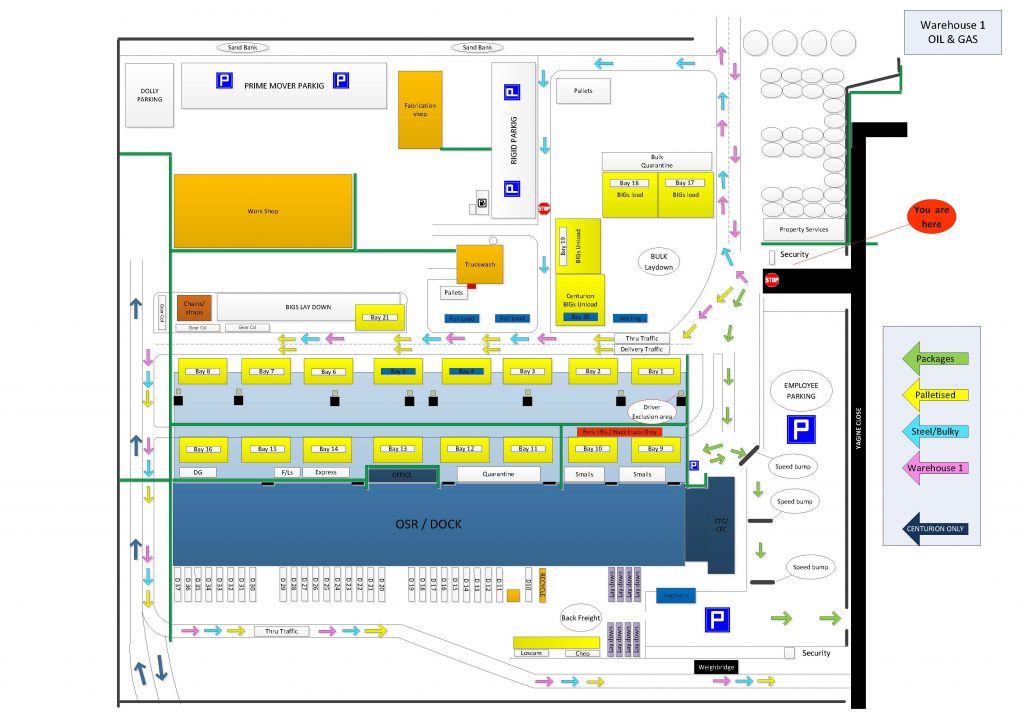 When vendors arrive at the security gate they'll be greeted by a traffic coordinator and will be directed to the relevant area.
Vendors delivering goods required to be off loaded by forklift please ensure that once cleared to enter an Unloading Bay, you make your load ready for off-loading, then move to the DRIVER SAFETY ZONE. You will be required to stay there for the duration of the offloading process. If the Forklift Operator does not see you in that designated area they will cease off-loading operations.
Through the centre of the yard there will be two Drive lanes. The right hand lane will be for traffic moving through and exiting while the left lane will be for vehicle preparing to enter a delivery bay. These two lanes only exist from security to the length of the unloading bays. Where it turns into two way traffic again.
Finally, those visiting are reminded that the site speed limit is 10 kph and this remains until you exit back onto Yagine Close.
The new system may take a short time to get used to and we thank you in advance for your patience as we aim to continuously improve our systems and processes.
The Perth Airport Logistics Hub includes:
Total area of 80,000 m2;
Warehouse 30,000 m2 with 3400 m2 awning
Consolidation dock of 6,500 m2;
Undercover receiving and loading area of 11,500 m2;
Refrigerated consolidation and handling area of 1,150 m2;
OSR enclosed and air conditioned area of 3,100 m2;
Operations office area of 400 m2;
Administration office area of 1,200 m2;
Maintenance and fabrication workshop of 3,000 m2;
Drive-thru truck and equipment wash bay facility; and
Accredited weighbridge including height sensors.
Warehousing is a critical part of the supply chain and Centurion provides exceptional supply base, warehousing and inventory management services across our extensive distribution network. With over 62,000m2 of storage space in Perth, 37,000m2 of which is warehouse space, we have plenty of room for all your storage needs.
To find out more about our warehousing and transport capabilities in Western Australia, please fill out our contact form and a representative from our Perth Centurion team will be in touch with you shortly. Alternatively, get in touch by giving us a call on (08) 9278 3000.
Location and operating hours:
13 Yagine Close, Perth Airport, WA 6105
Contact: 9278 3000
Monday to Friday 6am – 12 noon