Departure Schedule
KIMBERLEY FLOOD UPDATE:
Due to the flooding and closure of the Great Northern Highway and other connecting supply routes, we anticipate delays to all freight movements planned to transit both to and from Kununurra, Fitzroy, Derby and Halls Creek for the foreseeable future while current road closures and diversions continue to impact supply routes. Our operational support teams have implemented alternate diversions for deliveries to and from these areas via South Australia and the Northern Territory in efforts to continue to support our customers and communities.
We will continue to provide regular updates via our support teams as it becomes available.  Safety is at the core of Centurion's culture, and we are committed always to protecting the health and safety of our employees and the public.
Should you wish to discuss this further please contact your Account Manager direct or our Customer Service teams. We thank you for your continued support and understanding.  
G – General                  F/C – Freezer/Chiller                   * – No Departure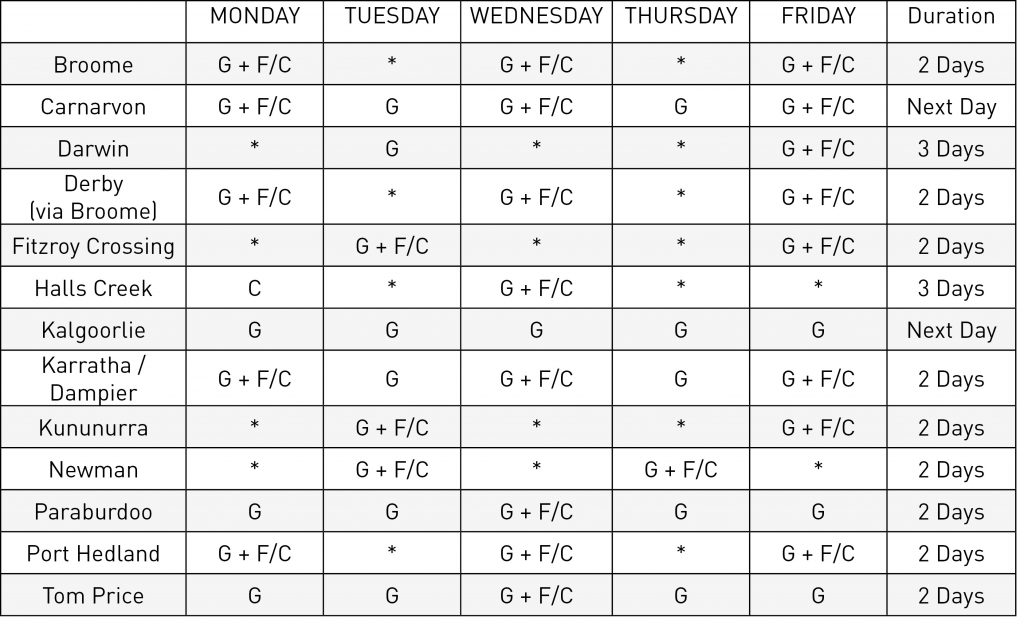 Freezer/Chiller (F/C) Receivals: delivered Friday by 10.30am
General (G) Recievals: Monday to Friday 6am – 12 noon
Priority Loading will be given to freight received before midday on day of departure
Plants will be received on day of departure only
Schedule subject to change without notice
Freight services are volume dependant